November Newsletter 2022 | NOV 2022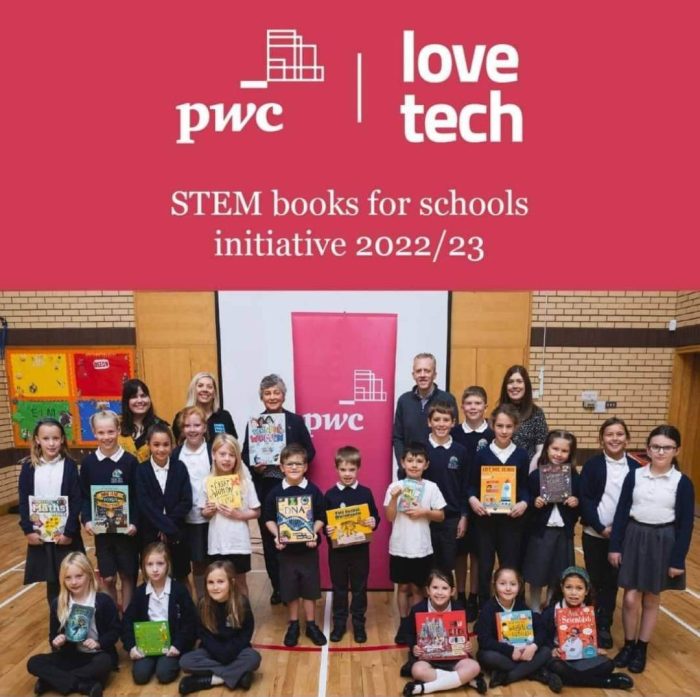 It's been a busy month for Love Tech. As well as TechMums – our digital training club in collaboration with Jo Cutsforth of Jo Cutsforth Training and Coaching, we've continued to run our STEM books for primary schools' project.
PwC Isle of Man have been a fantastic partner here. Their sponsorship has enabled us to donate Science, Technology, Engineering and Maths (STEM) books to each primary school as we roll out our scheme across the Island.
We're also using the opportunity to deliver assemblies that detail the amazing jobs being done here on the Island using examples from Love Tech's many mentors. Our patron, Lady Lorimer, has been getting involved too and visited Sulby School with us to give a talk to the children about her own experience of working in STEM.
As well as this, Love Tech are incredibly grateful to Bridge Bookshop for helping us source appropriate titles for the children. Many of our primary school libraries now contain a diverse selection of age-appropriate STEM books such as How Cities Work, Shark Bytes, Fantastically Great Women Who Changed the World and Build you own Website for Beginners.
In other news, Love Tech have also been supporting www.mathsweekengland.co.uk via our social media – sharing information and resources from #mathsweekengland (Nov 14th-18th) on our social media and highlighting our own 'Mentor of the Month,' Maths Mentor and Actuary, Heather Beck.
Heather is a Maths whizz whose job involves calculating future risk in the insurance industry, using high level probability, statistics and models! Our you tube video exploring Heather's role, plus more details about all our initiatives can be found on our social media pages with the handle @lovetechiom.
Last, but certainly not least! Love Tech Ltd are hugely honoured to have been awarded Isle of Man UNESCO biosphere partner status. This is an important step for us in terms of loving our Island and helping its economy develop in a sustainable way, especially through our community orientated education and mentoring programmes.
To find out more about us, please visit our website, lovetech.im. Also, if you would love to join our active team of volunteers, or women in STEM mentors, please drop us an email at lovetechiom@gmail.com.
Love Tech Ltd is an Isle of Man registered charity no. 1293. We inspire and empower girls and young women to explore opportunities in Science, Technology, Engineering and Mathematics (STEM) in the Isle of Man. We are also proud to be the Chamber of Commerce's 'Charity of Choice' 2022/23.