Isle of Man Graduate Fair 2022
Isle of Man Graduate Fair 2022
description
Join Love Tech, meet our Committee Members & Mentors and try out our state of the art Virtual Reality Headsets at our exhibition stand between 1pm and 5pm!
You might also want to check out the panel session at 2.45pm where one of our Technology mentors, Rachel Grant, will be speaking during the 'Inspirational Islanders' session.
Get a fresh perspective!
If you aren't quite sure where your qualifications are going to take you or the jobs and career opportunities the Island has to offer… The Isle of Man Graduates Fair is the place to be.
You'll find OVER 57 companies represented from 12 different sectors
Information & Communication Tech / Finance & Financial Services / Manufacturing & Engineering / Construction / Utilities / Maritime / BioTech & BioMed / E Gaming & E Business / Aviation / Public Services / Health Care / Education
Programme overview
ENTRANCE HALL
1pm: Registration Open
EXHIBITOR HALL
1:00pm – 5:00pm:   Meet The Employers!
Meet and network with a wide range of Island based employers, and find out more about the diversity of opportunities available in the Island.
SPEAKER STAGE – PANEL SESSIONS
1:30pm – 2:00pm: CV Surgery
2:45pm – 3:15pm: Inspirational Islanders (Love Tech STEM Mentor, Rachel Grant will be speaking at this panel session)
4:00pm – 4:30pm: Starting a Business
Hear from a programme of inspirational speakers, all of whom have graduated and then relocated or moved back to the Island and are now making their mark in their respective fields of the Island's economy. Keep your eyes peeled for announcements via the Locate Isle of Man social channels (Facebook, Instagram, Twitter, and LinkedIn) and Eventbrite.
No pre-booking required.
WORKSHOP SESSIONS
2:10pm – 2:35pm: Graduate Employability Skills Masterclass
This session will provide an introduction to the Graduate Employability Training Programme which offers young people the opportunity to enhance their workplace skills through a free, two-week training course.
Spaces on this workshop are limited and bookings must be made in advance.
3:30pm – 3:55pm: Graduates Guide to LinkedIn
The 'Graduates Guide to LinkedIn' workshop will be held by Alison Teare; experienced LinkedIn Trainer and Marketing Manager for Locate Isle of Man, to discuss the best way to leverage LinkedIn for your career.
Spaces on this workshop are limited and bookings must be made in advance.
SAY CHEESE! SNAP A BUSINESS HEADSHOT
2:00pm – 4:00pm: Take a business headshot
Looking for the perfect professional headshot to accompany your LinkedIn profile, job applications and more? Stop to say 'cheese' in our dedicated headshot photography section so you are photo-ready to apply for jobs!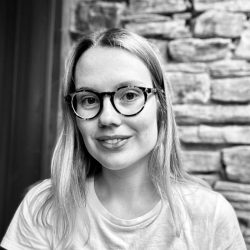 Rachel Grant – Love Tech STEM Mentor, Software Quality Engineer at Derivco and Speaker at the 2.45pm 'Inspirational Islanders' panel session.
Fee:

Free

Date and Time:

Location:

Comis Hotel and Golf Resort Golf Club