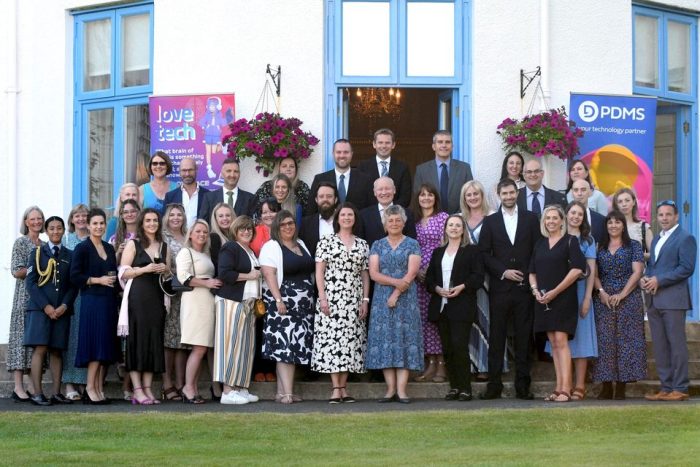 Thanks to everyone for your support throughout 2022, it's been a busy year so let us proudly present, (drum roll!)…
#lovetechlowdown2022!
Here goes…
#february brought our first #techmums club to a close! An amazing group of ladies participated and had a whole load of fun increasing their tech knowledge – the feedback was fantastic!
In #april we then headed to the Isle of Man Graduate Fair at the Comis Golf Club for a fun-packed 'meet the mentors' afternoon.
Next stop was #June – a particularly busy month!
First, we teamed up with Beach Buddies for 'Love Tech X Beach Buddies – Ballaugh Family Beach Clean.' Families and supporters were invited to hang out with the Love Tech team, find out about our work and events, all whilst having an enjoyable afternoon helping to keep our beaches clean.
In the same month, our team and mentors went back to school at QEII and Ramsey Grammar!
'That was actually quite good.' Student feedback from our Secondary School Mentor talks (we'll take that!).
Here our mentors, such as zoological scientist, Rachel Jarvis, actuary, Heather Beck, and software developer, Martyna Wilk, shared their fabulous journeys with students. So, here's to some future Manx STEM stars! 
Finally for June, our committee, mentors and supporters were invited to a reception at Government House to mark Lady Lorimer MBE's gracious acceptance of the position of Love Tech patron.
Lady Lorimer's career background is in science and technology. This is therefore a great scoop for us. Her support and expertise undoubtably make her an excellent role model for our cause.
'I am delighted to have been invited to serve as patron of Love Tech, a local charity that recognises the importance of bringing diverse perspectives to the fields of science, technology, engineering and maths.' Lady Lorimer.
In #July we then embarked on Cloud Coding – Love Tech X Met Office. This event took place at Ronaldsway Meteorological Office giving our budding Meteorologists the chance to learn all about Manx weather (a common topic of local debate!).
Meteorological equipment and instruments were discussed and demonstrated and, as you can imagine, the event went down a storm!  
At the end of July, we also kicked off our Love Tech STEM Summer Roadshow. This took place over the summer holidays across 3 locations on 3 different dates. It also saw us joining forces with our friends from Code Club and Young Engineers, offering children a range of STEM activities to learn from all whilst having a great time!
#august then featured our four 'Gadgeteers Summer Reading Challenges' at The Henry Bloom Noble Library. Our mentors got busy here, setting the kids problem-solving tasks and teaching them all about energy!
Next, #september brought us Sea Watch at the Sound – Manx Whale and Dolphin Watch X Love Tech. The Sound is known as a cetacean and seal hotspot, so this event was all about inviting members of the public to grab a pair of binoculars and get hot-spotting!
As if this wasn't enough, ManSat x Love Tech – Reach for the stars was another popular event in September. Here, members of the public were given the chance to learn more about the diverse career opportunities available in the Space industry. As an extra bonus, they got to hear from a panel of industry professionals about ManSat's bursary scheme.
In fact, Autumn saw us busy all round and it was a huge pleasure to be involved in STEM FEST 2022 and to participate in Chamber's Digital Forum at Eagle Labs.
As well as this, Love Tech continued to roll out our STEM books in schools' initiative across the Island's primary schools, with eight assemblies conducted too.
This on-going event has been sponsored by PwC, enabling us to leave behind a number of Bridge Bookshop sourced STEM books for each school library. There was also much excitement when Lady Lormier chipped in here, giving Sulby school children insight into her own STEM expertise!
Finishing off the year, #november and #december saw us run our 2nd #techmums digital training club. This time our free, 6 week course was run in partnership with Jo Cutsforth Training and Coaching, helping local mums gain the digital skills necessary for 2022 and beyond.
'Fantastic course, informative and helpful. It was great meeting others in the same situation and I really enjoyed all the sessions." #techmum feedback!
All in all, it was a busy 2022!
More thanks are due to all our mentors and volunteers – watch this space because we've plans for you to hear everything about them.
Also, we couldn't have done any of our work without our incredible sponsors and supporters – with a MASSIVE thank you to the Chamber of Commerce.
From all of us here at Love Tech, here's to a stemtastic 2023!
Love Tech Ltd is an Isle of Man registered charity no. 1293. We inspire and empower girls and young women to explore opportunities in Science, Technology, Engineering and Mathematics (STEM) in the Isle of Man. We are also proud to be the Chamber of Commerce's nominated charity 2022/23.
If you'd love to get involved – either as a volunteer or a sponsor, head over to our website www.lovetech.im to find out more, or get in contact at lovetechiom@gmail.com.