If April was egg-cellent, May is also set to be film-nomally exciting!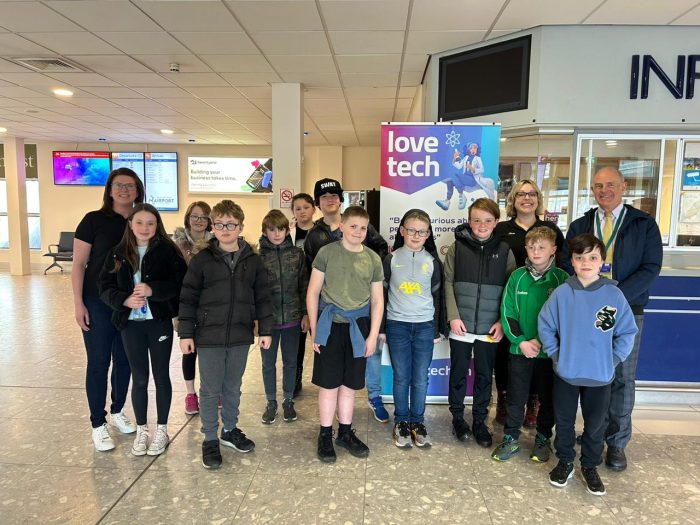 And we're back! May has arrived and our egg-ceptionally egg-citing Easter seems a distant memory – not least because at Love Tech HQ we've been so busy!
So here's a quick low-down on what went down throughout April, and what we're all looking forward to as we get set for a film-nomenally fabulous May!
Here goes…
First up, our Cloud Coding event took place during the Easter holidays and went down a storm! We were also truly honoured to be joined by our Patron and Love Tech mentor in her own right, Lady Lorimer, MBE. Having such high-level support is vitally important to our cause and really helps us maintain visibility as we 'Inspire and empower girls and young women in the Isle of Man to explore STEM opportunities.'
In addition to this, we want to say a massive thank you to our committee member, Jayne Hartley, for taking the lead on this event and to the Met Office Meteorologists, Adrian Cowin, and Love Tech mentor, Kirsty Pendlebury. Their knowledge about the different types of weather blew everyone away!
"The meteorologists showed everyone examples of extreme weather in the Isle of Man, with photographs of snow drifts from 2013 on the West of the Island and a tornado waterspout off the coast of Castletown! The children had lots of interesting questions to ask and enjoyed cloud identification and shape detecting out the window as well." Jayne Hartley, Love Tech committee member.
Next up – only the day before Cloud Coding, Love Tech committee members and mentors alike were busy at the Graduate Fair 2023.
As we've mentioned before, our mentors are vital to our cause, and this was a prime example of where they really came into their own as role models.
Many, many thanks therefore to our Graduate Fair mentor team, Haafizah Hoosen-Charles, Jewel Bacani, Kirsty Pendlebury, Martyna Wilks, Rachel Grant and Rose Sandilands, who were all on-hand over the course of the afternoon to offer valuable, first-hand insight into local STEM careers and opportunities. From microbiology, software testing and development and meteorology, to analytical chemistry and mechatronics engineering, we certainly showcased the breadth and depth of STEM professions! Lady Lorimer popped by to offer her support too, and well done as always to our hard-working committee members.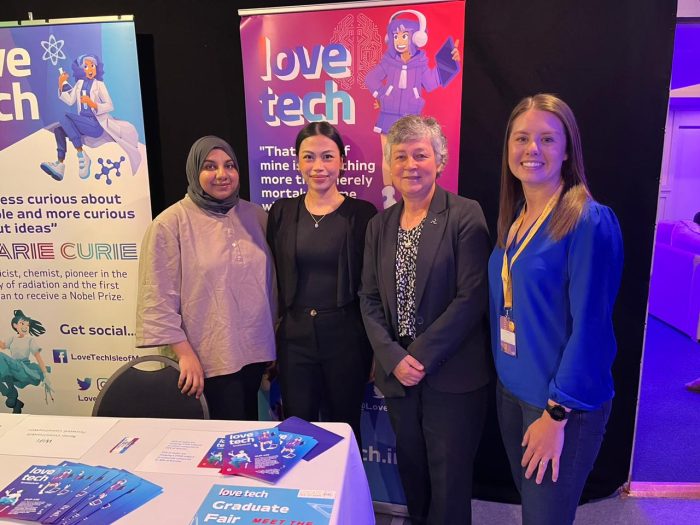 All this also means that if you're a female STEM professional in the Isle of Man and would like to get involved, please do get in touch at contact@lovetech.im. You have so much to offer! Which brings us neatly onto our next topic…
So, because we do have such a fabulous – and ever-evolving team, along with a few showers, April brought with it the first of our team filming evenings too.
Basically, we've been working hard behind the scenes to offer more resources on our website. This means that alongside new merchandise and Mailchimp buttons, we now have a brand-new media page.
Our intention is to therefore fill this with educational and informative videos, and where better to begin than via our team's very own STEM stories? We began by filming our committee and are looking forward to filming our mentors towards the end of May.
Huge thanks to videography, Glenn Whorrall, for his careful expertise, and to Barclays Eagle Labs for letting us use the venue in recognition of our status as Chamber's 'Charity of Choice' 22/23.
Keep an eye out for more details (and well done everyone, you were all absolute pros!).
And, to finish… please do check out our new website. March's Gender Equality presentation is now up in our media section. In addition to this you can purchase our official Love Tech t-shirts to pledge your support for everything we do. You can sign up to our Mailchimp too, so you never miss an event again!
So off into May we go! Starting off with a get set, BANG on May 11th with our Love Tech X ManSat and The Dome, Crew not Passengers! This exciting event, aimed at years 7 & 8 will feature two short films designed to help the children discover why we all need to be crew, not just passengers, of Planet Earth.
This event is now sold out! But if you've missed out, do keep an eye on our Eventbrite for any last minute returns!
Lastly, thank you as always to Chamber for everything, and remember, here's out website: check it out! www.lovetech.im
Love Tech Ltd is an Isle of Man registered charity no. 1293.